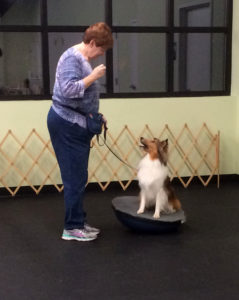 For any sound dog, any age. Fun training for your dog that requires minimal pre-training.
This class is a Gymboree for your dog! We keep him busy with fun stuff while increasing his flexibility and body awareness; this training also is an excellent source of mental stimulation and enrichment for all kinds of dogs, which helps keep them sharp and burns energy in a healthy way.
We start and end each class by doing some basic warm-up exercises and stretches – just simple body positions such as sit, down, stand, spins and bows, and gentle stretching.
Some of the techniques we use are these:
Targeting (touching a target, and anything can be a target, including you) with a specific body part;
Cavaletti work — cavaletti are low jumps that the dog learns to walk/trot over, helping him to be more aware of his extremities;
Using our extensive collection of equipment for your dog to get on, over, around (even under), your dog's strength and balance will improve.
One very important thing we teach dog owners in this class is to be aware of safety to our dog. Challenges are good, but we never want to overdo it or push a dog beyond what is safe and comfortable for his body. Considerations include your dog's age, weight and physical development as well as physical condition. Every dog is different — puppies and older dogs need special work; and a couch potato dog needs building up for some of these challenges!
Any dog that is recovering from an injury or has an issue with a particular body part should be checked and approved by a veterinarian before participating in the class or in a specific exercise.